The Importance of Having Proper Pool Equipment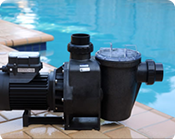 You can buy pool equipment and chemicals in a lot of places: big box stores, specialty stores and sometimes even the local hardware store, but not all pool equipment is created equal and not all chemicals will work as promised.
As with everything, with pool equipment you get what you pay for, and that means you should go with the best, top of the line things to make your pool last that much longer and work that much better.
In pool equipment size matters. If you have a pump or filter (or both) that are too small for the volume of your pool they won't do their job properly, even if you have them on twenty four hours a day, seven days a week. If your pump is working overtime and still can't work efficiently, it means that you are paying too much in energy costs, the water isn't getting properly circulated which can lead to a whole host of problems and it also puts unnecessary stress on the machines themselves and the whole plumbing aspect of your pool.
Whatever pump you choose make sure it's the right fit by looking at the volume rather than just the size of your pool.
Nozzles, drains and skimmers are all integral parts of the pool and these things come preassembled, as a unit. They can't be disassembled later on if something goes wrong with them. Therefore, don't cheap out on these items; make it a priority to get high quality ones from the get go—it will save you costly repairs down the line if you do.
As far as chemicals go, go with a name you trust and if you pay more for that name, so be it. Some companies offer chemicals for cheaper than the name brands, but they won't work as well and may be diluted with other chemicals you just don't want in your pool. Having clean water is not only great to look at but it makes bathing in it that much more comfortable and safe for your family.
If you must 'cheap out' on something for the pool, make it the hand held skimmer or the pool noodles, but make sure what you are putting in the pool and what makes it run properly are the best that you can get, you'll thank yourself for it later.